SonoCHronoTop (2000)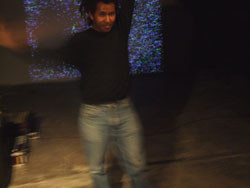 For theremin-sensores and MAX/MSP based interactive system.
Sonochronotop is a sort of virtual musical instrument as well as an active sonic space, a kind of invisible sculpture, in which the sound (sono-), it's development in time (chrono-) and active motion in space (topos) are linked together and the spatial structure of musical performance could only be developed and displayed as a result of transformation of a biodynamic tissue of motion into the sensual tissue of musical sound.
Performers or visitors are moving and dancing in the active area of several antennas – theremin sensors which are tracking position of the human body in space, while MAX/MSP based interactive system is analyzing incoming data and interpreting it into the flexible developing musical structure. The motion of performers is representing the substance, skeleton of musical image while space appears as a halted time and time behaves as a driving space.

There are several embodyments of SonoCHronoTop, including the series of interactive musical performances in collaboration with Dmitry Kalinin (schakuhachi), Peter van Bergen (sax), Cordula Boezsce (flute), "Shadows" installation together with Elisabeth Schimana, new "solo" SonoCHronoTop installation series.


Requirments:
- Big enough dark space;
- ceiling height > 3 m.;
- the ordinary PA;
- any small mixer;
- computer (mac or pc);
- web camera.

Performances:

22-24, November, 2006, Shadows Installation at A=V annual FESTIVAL=WORKLAB, München, Germany, info@aa-vv.org.

May - November, 2006, Shadows Installation at Klangturm St. Pölten, NÖ Landesmuseum, Austria.

30, May - 3, June, 2005, SonoCHronoTop Performance at Acousmatica & Interaction Festival and workshops, Pro Arte Institute, St.Petersburg

3, February, 2005, Cultural Center DOM, Moscow, Shadows05: Elisabeth Schimana, Andrey Smirnov, Elena Golovasheva (dance).

3, April, 2004, Kazan Concert Hall, Tatarstan, SonoCHronoTop Performance at Europe-Asia Festival, Kazan.

17-19, April, 2003, Ural State Conservatory, AlterMedium 03 Festival.
SonoCHronoTop Performance together with Cordula Boezsce (flute).

20, December, 2002, Korzo Theatre, The Hague, Netherlands. LOOSmanifestatie. SonoCHronoTop Performance together with Peter van Bergen - woodwinds.

9-10, December, 2002, Center for Contemporary Arts, Moscow.
Shadows interactive installation by Elisabeth Schimana and Andrei Smirnov.

3, September, 12-30, IJsbreker, Amsterdam, Netherlands. In the frame of Gaudeamus Muziekweek 2001. SonoCHronoTop interactive performance for Dmitry Kalinin (shakuhachi).

Since 2000 numerous SonoCHronoTop Performances together with Dmitry Kalinin at Moscow Autumn Festival, Altermedium Festival in Moscow and Ekaterinburg, Actions/Interactions Festival, Moscow etc.